There are three major improvements to Book Report that are now available:
New Attributes and Metrics

Improvements to the Date Chart

Modular Report Customization
These updates have now launched as the main version of Book Report. They will be automatically available next time you launch the application, which you can do by clicking here.
New Attributes and Metrics
There are new options available for all of the charts in Book Report. These will expand what you can learn from your data and make insights easier to uncover. They fall into two groups: attributes and metrics.
Attributes
Your sales data has many attributes. Each sale can be attributed to a certain book, a certain marketplace, and a certain author.
In this update, there are new attributes you can use to build your report:

Book Report now automatically detects which Series a book belongs to!
These allow you to see your data from different perspectives, giving you a clear view of various aspects of your business.
Metrics
This update provides new ways to measure your data - on top of the earnings, units, and paid units metrics you already had available, we have added many new ways to measure your sales data.

Highly requested additions include Refunds and Preorders!
These metrics let you track and measure whatever matters most to your business at the moment.
The Date Charts
The date chart, which shows sales data over time on the Historical tab, is now more powerful with the addition of attributes.
As an example, with just a few clicks you can graph the number of page reads each author you've published has received each month for the last two years: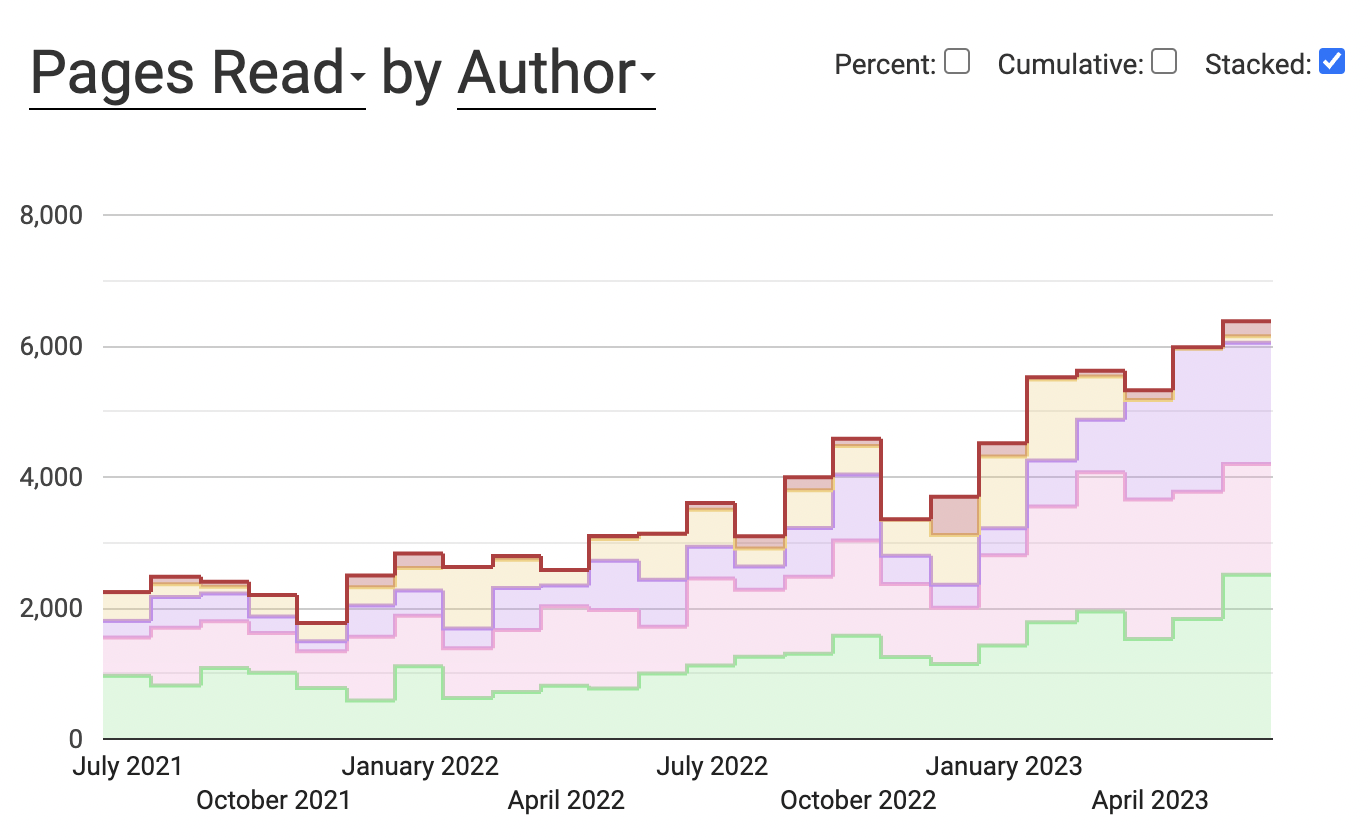 We've also added a new checkbox labeled "Percent", which displays data with each attribute as a fraction instead of an absolute value. This option makes it easy to spot trends over time, by hiding fluctuations in the overall amount.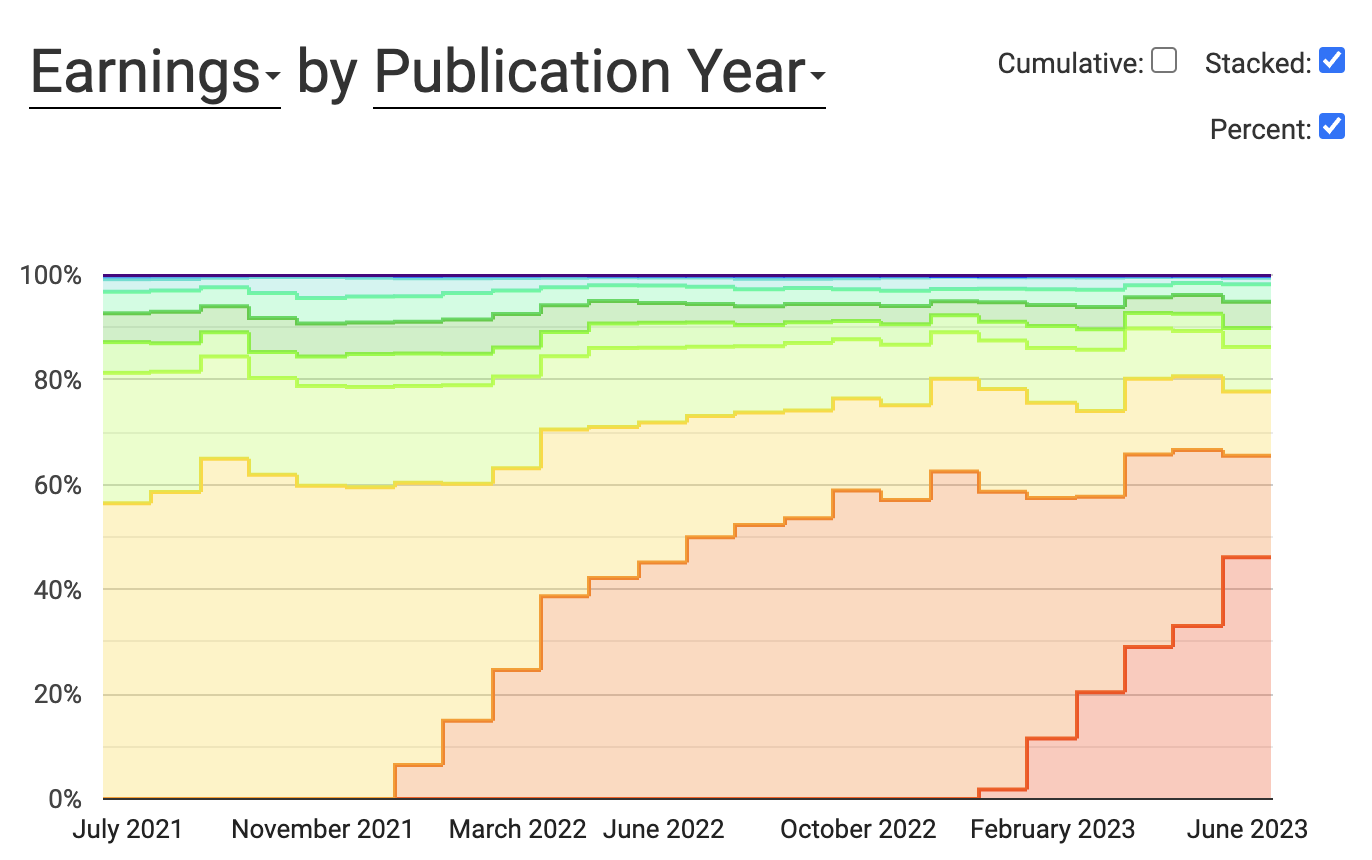 When there are a lot of different attributes, this chart can become hard to read. To help with this, we have added a column chart with all the same capabilities.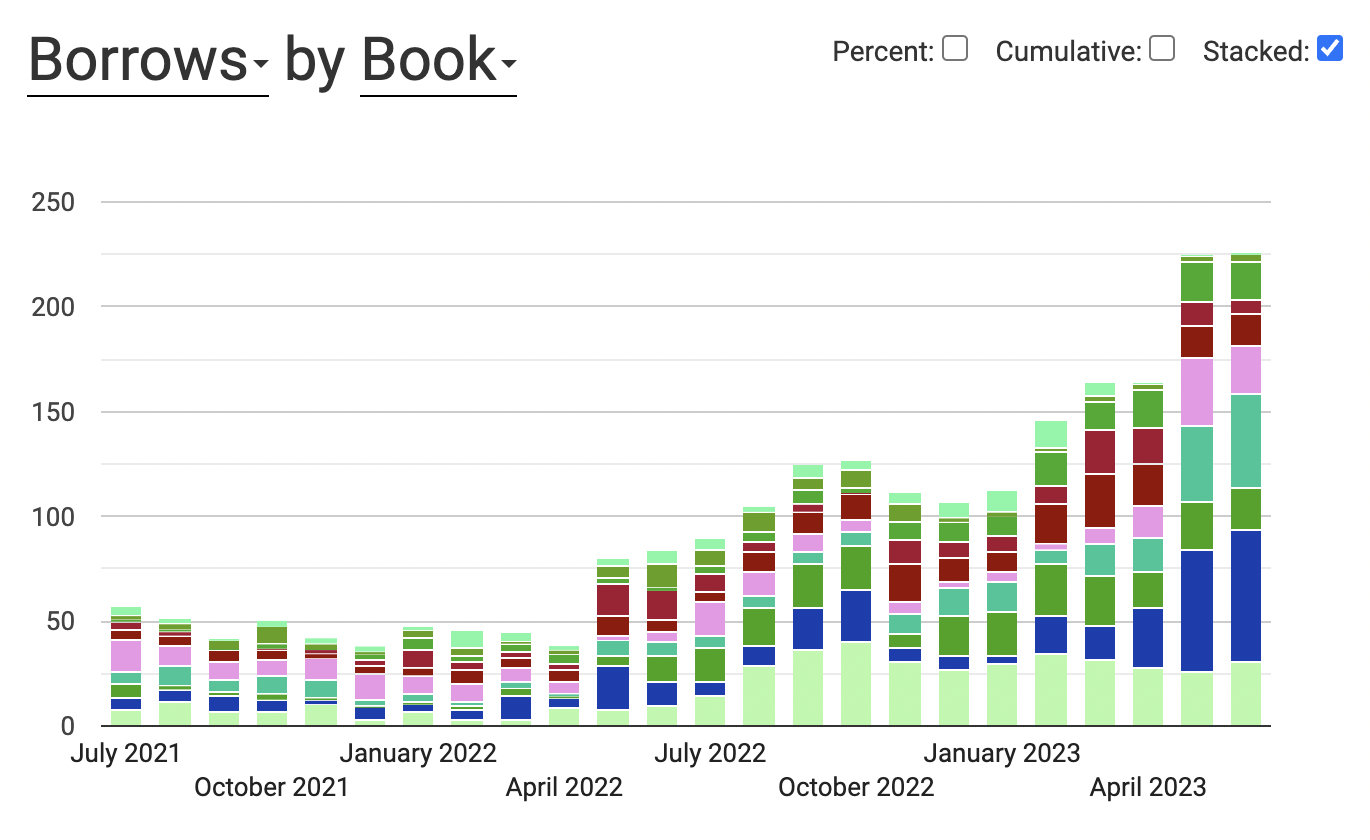 Report Customization
There's a new button labeled "Customize Report" at the bottom of both the Historical and Today tabs. Clicking it brings up this panel: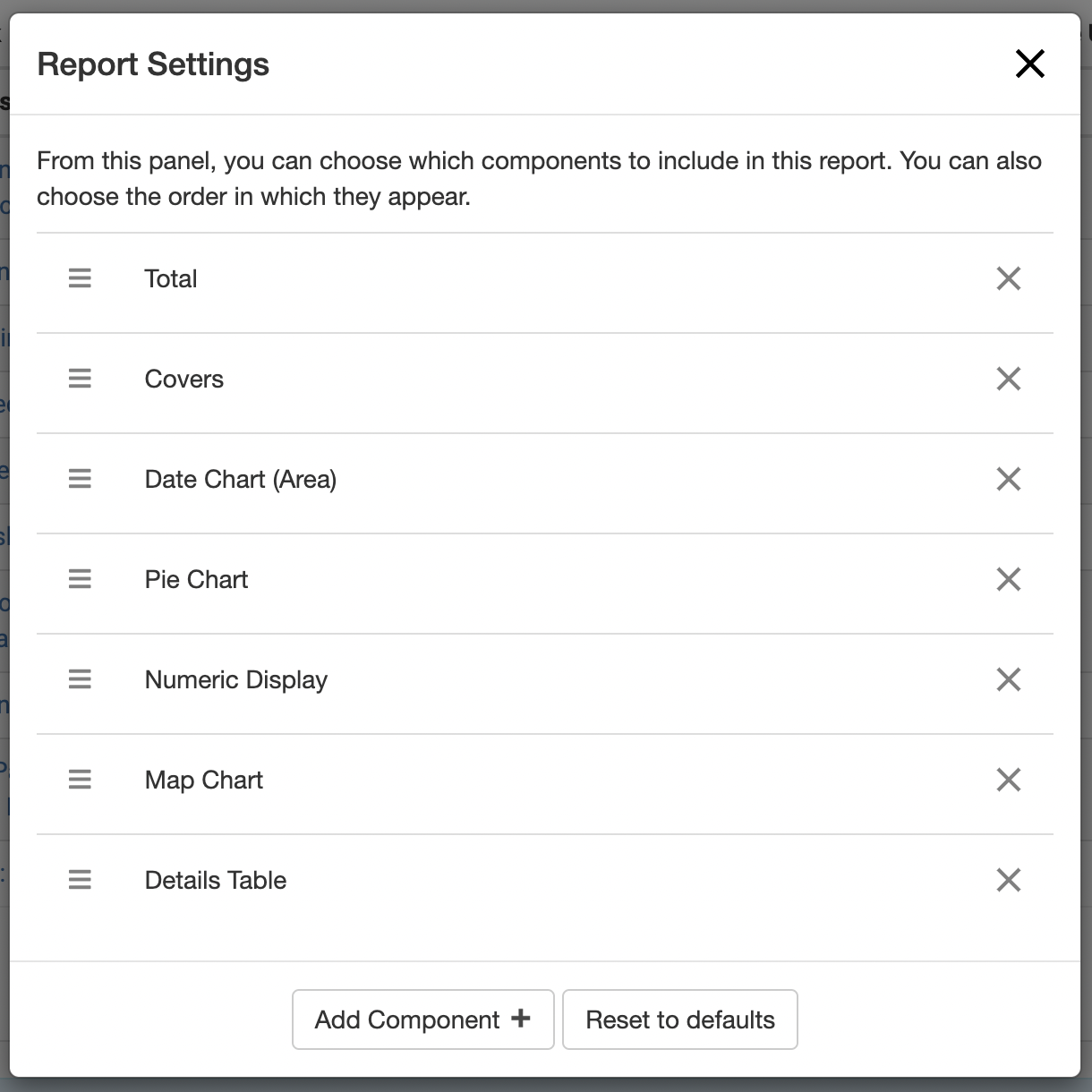 You can remove components, drag-and-drop them to reorder, and add as many as you'd like. Any changes you make here will sync across all your devices, so you can get your report just right and access it everywhere.
What to do if you encounter an error
I have taken precautions to prevent major bugs from entering the software during this substantial upgrade. But bugs are always possible. If you encounter an error, please:
Let me know! You can email me at hello@getbookreport.com or fill out this feedback form:

https://forms.gle/7r98YV3Um2VFdaQ39

If the bug renders the new version unusable, you can run the legacy version of Book Report by visiting https://app.getbookreport.com/old
The legacy version of Book Report is a temporary stopgap to ensure that no one loses access to their data during this upgrade. I will keep it up until I have resolved all reported issues with the new version.
Where did X go?
This update did not remove any features from Book Report. But some features have been moved around or rethought. If something appears to be missing, please refer to the information below.
Marketplace Filtering
Book Report used to have a setting to enable a marketplace filter. The marketplace filter is now found alongside all the other report filters.
Click on "Select Filter(s)"
Click Marketplace
Book Filtering
Click on "Select Filter(s)"
Click Book
Author Filtering
Click on "Select Filter(s)"
Click Author
Historical Report Settings
There was an edit pencil icon in the top right of the previous version of Book Report. These options are now found at the bottom of the Historical tab.
Scroll to the bottom of the Historical tab.
Click on the "Customize Report" button.
Remove and reorder the components as you wish.
With this upgrade, you can add duplicate components and the features are also available on the Today tab.
Billing Information
From the Settings tab, you can now launch the Billing Portal to view information about your subscription, your billing information, and your past invoices. This interface is built by Stripe, our payments provider, so that I can focus my coding on publishing-specific features.
Hide Covers
Instead of having a setting to show or hide book covers from the interface, this version relies on the Customize Report options to allow this component to be added or removed similar to the other components.
Missing or Added Components
Book Report should remember your report settings from the previous version. But if any components have gone missing or have reappeared, the Customize Report button is where you can go to fix it.
Pre-Existing Series Attribute
If you had used our Custom Attribute system to label the series of your books, do not fret! Your data has not been overwritten. Currently, this results in "Series" showing up twice in the various drop-down menus - the first will be the automatically detected one, and the second will be the pre-existing custom one.
Settings Not Working
The previous Settings tab auto-saved changes in a bug-prone matter. This version requires clicking "Save Settings".
Mute Button?
If you use the ka-ching feature, you will likely notice a muted speaker icon in the new version. Web browsers sometimes block audio from playing, to prevent spammy websites from auto-playing ads. If you click the mute icon, it will confirm to the browser that you do want Book Report to play audio.